Social CRM – Is the Horse Strong Enough to Ride?
Introduction
A few weeks back I wrote an article answering the question of What is Social CRM?, and how social CRM has taken shape and shared an idea of how it can be used in the health care industry. However, the more I think about proactively engaging the customer to build relationships and business, the more I think about whether we are prepared for this type of change at a larger scale.
So, the question is – Are we prepared to receive Social input?
"Change" is inevitable; what could differ is the extent of change depending upon the market the company is in. As a rule of thumb, if the company is in a market that reaches a large customer base, the amount of social input will be greater and the changes within the organization will be proportionally higher. Let me categorize our discussion into –
1. Communication Channel
2. Team Composition
3. Customer Engagement Process
4. Social Analytics
Here's an attempt to provide a generic framework that can be modified to suit any industry.
Communication Channel
The three key attributes of communication in an organization are – timeliness, target audience and clarity of information. How do we ensure that all the three are streamlined, balanced and consistent in an organization that wants to go Social?
Rule 1 ⇨ Identify primary owner/s responsible for each Social channel
Rule 2 ⇨ Categorize Social input into –
a) Product Interest
b) Product complaint
c) Product Feedback
d) Product Change / Modification
Rule 3 ⇨ Identify secondary team members to provide inputs to channel / category owner
Rule 4 ⇨ Define SLA for each category and communicate timelines to customer and respective teams
Team Composition
A balanced team consists of learned and learners in a ratio of 70:30. This will enable –
✔ Learners to move up the value chain to eventually take over responsible roles
✔ Hierarchy that will enable smooth flow of knowledge
✔ Good excitement in the team for quicker turnaround times
Draw out a plan for periodical rotation of owners between categories and secondary line to get a good perspective of the overall process. This will help the team to consistently perform at a higher level. As a rule of thumb, team members should rotate specific roles after ten to twelve month time periods.  Set up a process to award credit points to team members who adhere to timelines. This healthy competition within the team will keep the spirits high enough to excel consistently.
Customer Engagement Process
Let me categorize the processes into two – Primary and Secondary. All processes that have at-least one direct customer touch point are Primary processes. For example – New Opportunity cycle, Campaign Management, Service Request Log, etc. Every primary process has to be closed by the customer. Each primary process in-turn will have one or more secondary processes. For a primary process to effectively close, all the respective secondary processes have to close. Every primary and secondary process will have the following defined –
a) Entry & Exit Criteria
b) Process Owner
c) Standard Timelines
Social Analytics
We talk so much about "actionable insights". However, most analyses & reports just end-up as referential documents on the executive's table. It's significantly important that the data leading to insights should result in "real" actions. It has to be the navigator's compass; only then the direction to go forward will un-fold. Let me give an example. I'll illustrate this with a generic process of "New Opportunity" cycle.
One way to structure the data out from the above prospecting cycle, to give insights can be –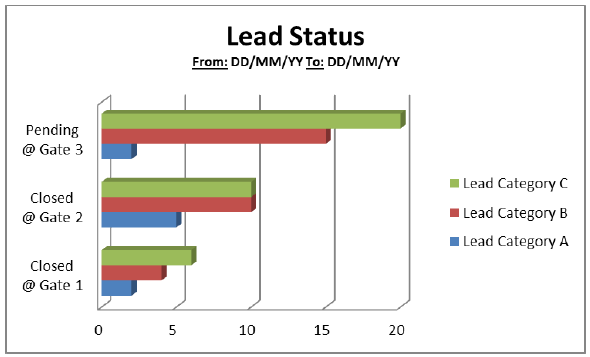 There has to be Root Cause analysis (RCA) group, whose Key Result Area (KRA) is to reduce the number of leads pending at Gate 3. Actions taken by RCA needs to be monitored for consistent improvement.
Summary
I consider "Social Analytics" and "Customer Engagement" process as the two fore-legs of the horse. This will in turn guide the "Communication Channel" and the "Team Composition", the two hind-legs. Like a mock up fire drill, run the horse multiple times to plug all the gaps before opening the gates to Social inputs.
While it's easy to declare that we are a "socially open" organization, the cost of non-adherence to social inputs is high.
Can we strive to keep our house always in order and not just before the guest arrives?
About the Author
Prasanna Rajanna is a Principal Consultant for Business Platforms Unit at Infosys Technologies Limited at Bangalore in India (www.infosys.com). He has over a decade + experience in CRM solution architecting. While implementing Siebel CRM for Telecom, retail, healthcare and automotive companies in Europe and United States, he has shown clients how to derive maximum benefits of the product by streamlining the process that is best suited for that specific industry. Prior to CRM, Prasanna has held various functional head / marketing management roles for nearly 9 + years in manufacturing & retail companies. He has managed countrywide partner & distributor networks.
His passion is to think deeply and create innovative solutions.
Email: Nr.Prasanna@gmail.com