Top 10 Social CRM Software Report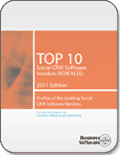 Are you searching for social CRM software to help you monitor and take advantage of social media platforms? Well, we've just made it a lot easier for you to find the best Social CRM software.
Our Top 10 Social CRM Vendor report reveals:
The top 10 Social CRM vendors you should consider.
Published vendor pricing.
Highlights of each vendor's CRM strengths.
Vendor background and contact information to get you started.