Top 15 Cloud CRM Software Report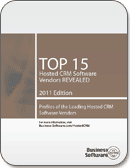 Cloud CRM is considered to be one of the most cost-effective, scalable, and functional CRM software options. With 99% uptime on most cloud CRM solutions and the lower costs in maintenance and IT, cloud CRM has grown more and more popular for businesses of all sizes. We've just made it a lot easier for you to find the best Cloud CRM software.
Our Top 15 Cloud CRM Vendor report reveals:
The top 15 Cloud CRM vendors you should consider.
Published vendor pricing.
Highlights of each vendor's CRM strengths.
Vendor background and contact information to get you started.
Why Cloud CRM is the right choice for your organization based on certain needs/requirements.