Top 40 CRM Software Report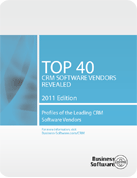 We've just made it a lot easier for you to find the best CRM software.
Our Top 40 CRM Software vendor report reveals:
The top 40 CRM software vendors you should consider.
Published vendor pricing.
Highlights of each vendor's CRM strengths.
Vendor background and contact information to get you started.
Help you sort through the right vendor that's perfect for your business.