How to Deliver Better Customer Service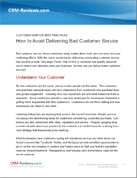 Delivering high quality customer service plays a pivotal role in your company's front-office activities. Get our FREE Customer Service guide and learn how you can deliver better service to your customers.
This whitepaper will provide you with:
10 tips to deliver better customer service.
Industry leading advice that has been successfully implemented by Fortune 500 companies.
Examples of Corporations with bad customer service.
A road map to customer service success.